Neta-Li Meiri left a promising career as a litigator to pursue her inner voice and passion. Watching, helping and mentoring women (and men) build successful startups, she is convinced that affirmative action for women entrepreneurs is a bad idea.
Neta-Li Meiri is a giver. In high school and through university, volunteering and helping those less privileged than her has always been a priority. She  even volunteered during her army service, while serving in the IDF's cyber intelligence 8200 Unit.
After law school, she became a litigator. "I felt like I'm literally fighting and arguing all day long," she tells me. Neta-Li goes on to explain that the world of litigation is about destroying things; it's about creating rivals between people who previously collaborated and making sure they never speak to each other again – especially if they can afford to pay the most expensive lawyers.  
Over time, Neta-Li understood that the world of litigation is outside her world of values and where she saw herself. She wanted to consider her options and carefully plan her next step. So she turned to her passion – volunteering. Neta-Li heard about the 8200 Social Program, an accelerator open to the public and designed to help entrepreneurs solve global social issues using technology, and signed up as a member.  
For Neta-Li this was a fabulous opportunity to volunteer for an important cause and one close to her heart. Knowing the co-founder and managing director at the time, Uria Lin, and having skills in marketing and business development that she picked up before beginning law school, Neta-Li soon began volunteering helping the 8200 Social Program. And of course, being the active doer she is, this was in addition to her demanding job as a litigator.   
When Women Support Women
As managing director of the 8200 Social Program, Neta-Li Meiri gets to see a lot of startups. During its last cohort, the program received 230 applicants, only ten of which were chosen (10 applicants are chosen each year).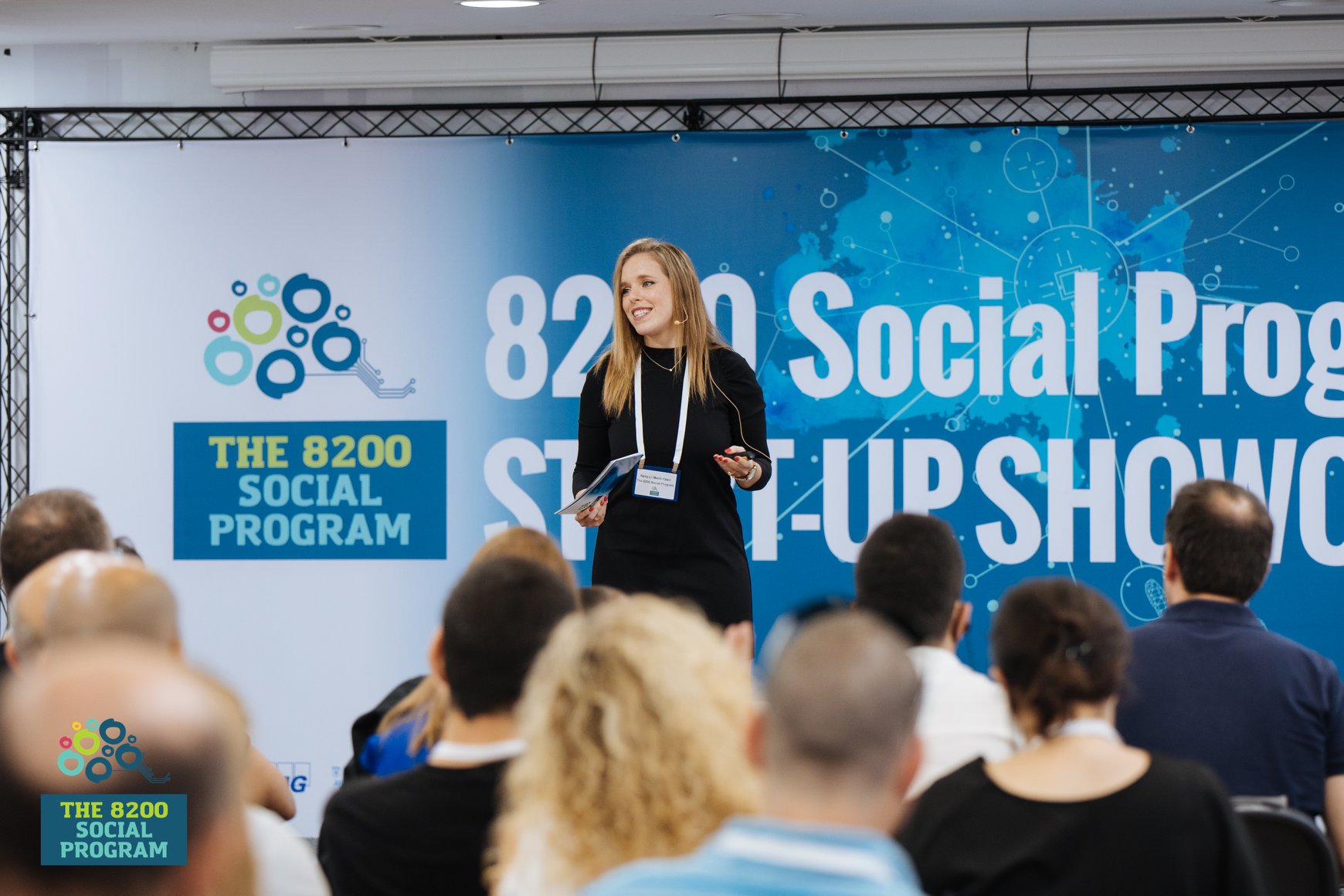 In the last cohort, Neta-Li tells me, 60% of the startup CEOs were women. And while numerous metrics determine which startups will be chosen, none of them are related to gender. And yet, there is specific attention to women entrepreneurs. Neta-Li both understands and respects the incredible passion and responsibilities women CEOs have. On the one hand, she explains, it is important for these women to be a valuable part of the workforce. On the other, it is no less important for them to be good wives and mothers. So while they're abroad, representing Israel, the tech ecosystem and meeting investors, they're also choreographing whatever is happening back at home.
So while there is no affirmative action (more on this later), Neta-Li spends a significant portion of her day counselling entrepreneurs. She has also collaborated with many organizations that help women in tech, including WMN, founded by Merav Oren, Yazamiot, founded by Hila Ovil-Brenner and has mentored at the Lead With program, helping women in tech. It is important to mention, that Neta-Li not only mentors. She has also been a mentee through Woman2Woman, a mentorship program founded as part of the 8200 Alumni Association.
Women's success is important. And so is the task of women helping women. In fact, Neta-Li points out, "…the more successful female entrepreneurs we'll see, the better position we will be in to see more women who will achieve it."
Affirmative Action Will Not Help Women Entrepreneurs
As mentioned, the 8200 Social Program is open to the public. I ask Neta-Li about affirmative action in the program, that is are there any places specifically saved for women? "I don't have any allocated seats for women, because I think it's wrong," she replies, "I think that creating bad female entrepreneurs will cause a worse result…they [investors] will see women entrepreneurs and think 'oh, they're bad,' and from there they'll deduce that all women entrepreneurs are bad."
Everything has a price. It's these prices that must be looked at with a microscope before we take a decision.
I'm grateful to Neta-Li Meiri for sharing her time and insights. You can follow Neta-Li on her Facebook page and learn more about her work at the 8200 Social Program.