I recently took part in the Kiverstein Institute's Network of Women Community Builder's Zoom meeting with Prof. Naomi Chazan.
Before I knew Naomi was going to be a part of the conversation, I wasn't sure I would attend. I had a lot of work to get done.
But then I saw that the Zoom meet would be a talk with Naomi Chazan, and I knew I couldn't miss it. And while I'm not one to get involved in politics, I greatly understand the need for women's political involvement, and role modelling that involvement. Hearing Professor Naomi Chazan was a real treat.
Naomi Chazan is one of Israel's trailblazing pioneers on women's research and thought in women on politics, and women in politics. According to Hamutal Gourie, senior fellow at the Kiverstein Institute, she is "one of the smartest women on earth."
We need more role models like this
Naomi's talk was both fascinating and inspirational.
Apart from being a professor emerita of Political Science and African Studies at the Hebrew University of Jerusalem, she is also a former Israeli Knesset Deputy Speaker and MK.
Naomi is also a committed feminist.
Naomi told us about her run for Jerusalem mayor in 1998, and the fact that she only garnered 4.8% of votes.
While it didn't come up in the conversation, it is quite clear to me that Naomi knew that she wouldn't win the election. She most likely also knew, that she wasn't even close. But I have no doubt, that what she did know, is that just by running she would open the door for women who would come after.
And while Jerusalem has not had a woman mayor yet, when it does, one of the reasons will be, because the door for a woman to run for mayor, has already been unlocked.
Help and impact are NOT the same thing
Naomi brought to our attention that when a woman's shelter needs help and we instinctively help, it's help, not impact.
Why?
Because when we help collect clothing for a shelter, or help with the kids at a shelter, or even build another shelter, we're not in fact impacting the nature of the problem. Sure, we're helping people and that's important in and of itself; but it's important to recognize that we aren't in fact doing anything to change the nature of the problem; we're not going to prevent the next case of domestic abuse, or change how we deal with abusive husbands.
In order for things to change, we need to answer how we can protect women against domestic violence.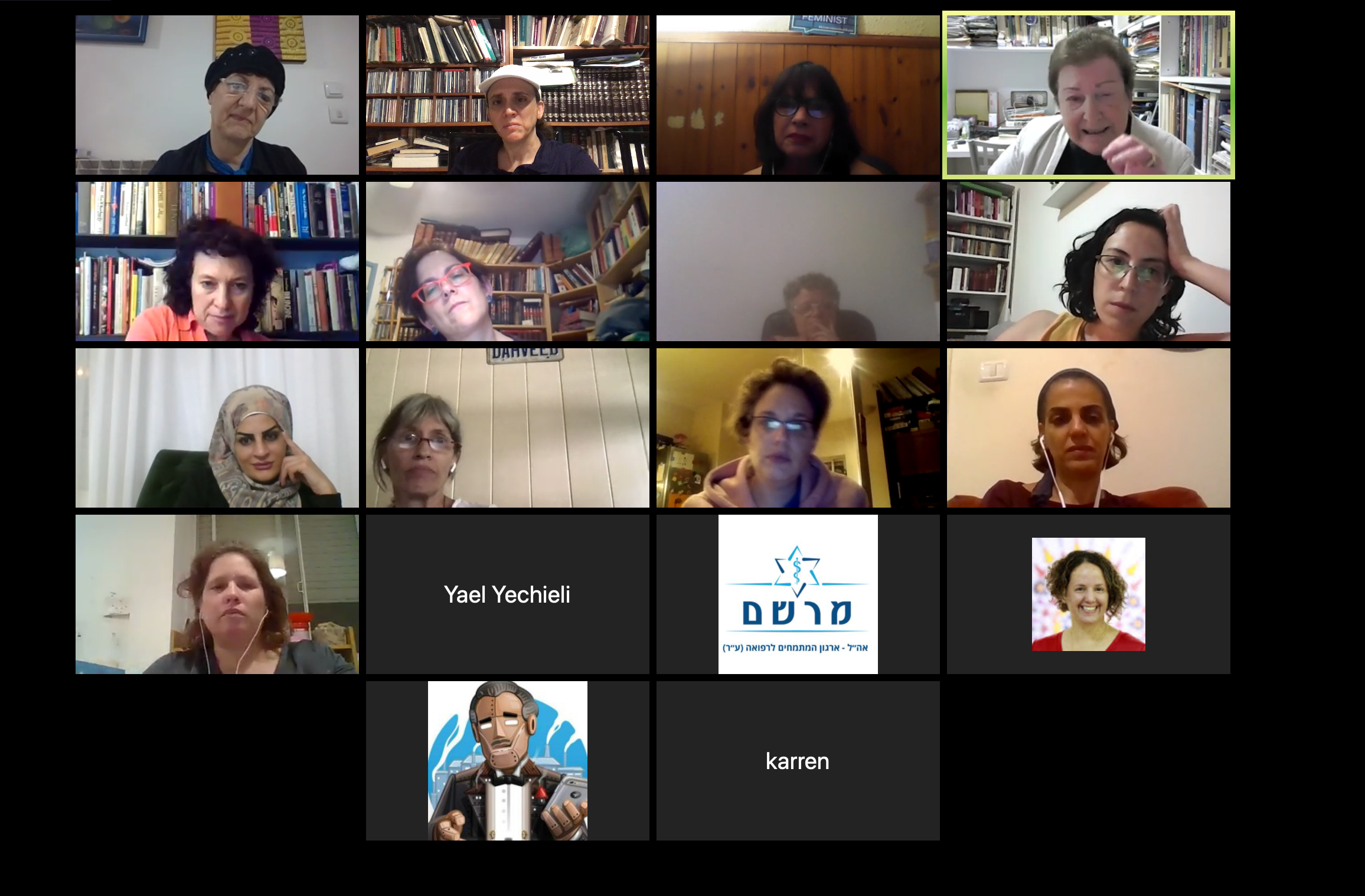 Women AND Politics; Women IN Politics
There are many ways to help people and make a difference.
But to influence change and make change requires politics.
In simple terms, to influence change, you don't necessarily have to enter the political arena; taking part in activities that help influence the minds of decision makers is enough. This is women and politics.
However, when a woman decides that she does want to be a decision-maker or be a part of the decision-making process, it means she has a desire for political involvement.
Why go into politics?
According to Naomi Chazan, there is only one reason to go into politics, and that is the burning desire for change.
When the flames of injustice, or the casualties of a broken system sear your heart, it may be time to enter politics. But only if that something that needs to be fixed is not for your personal benefit, or for that of your family's. That burning desire must be a result of something that you feel must be fixed to better society, or your country.
And while it's definitely possible to influence change from the outside, there are changes that can't be made unless you are inside.
Novices cannot impact change
Politics is an important means for change. But political involvement is not a hobby, Naomi explains. It is not something you do in your spare time, nor is it a profession for novices. Politics is a serious discipline one must learn. In fact, anyone who wants to succeed in politics, that is influence and bring about positive change, must first understand how the system works.
Naomi Chazan, shared her own experience, that even as a professor of comparative politics, specializing in institutions and processes, she had no understanding of the inner workings of the system. It was only after four months of being in the Knesset, and making this observation, that she was able to make the conscious decision to first learn and understand the system. No change can be made before this is understood.
The above is just the tip of the iceberg of the profound knowledge and insights Professor Naomi Chazan shared with us. I'm grateful to the Kiverstein Institute for being a proactive force in promoting women in the decision-making arena, and creating opportunities to network and learn from other women in the political and feminist spheres.
The Kiverstein Institute is a feminist initiative with a focus on equality, peace and security for the women of Jerusalem and throughout Israel.
The Institute's mission is to support and strengthen the feminist arena, to promote existing initatives and to identify more avenues to extend the influence of women in decision-making.
Founded at the end of 2018 by Melbourne-based human rights lawyer, Melinda Jones, The Kiverstein Institute's Jerusalem-based Senior Fellows, Hamutal Gouri and Peta Jones Pellach, have consulted widely with feminist leaders, spokeswomen and organisations. Their modus operandi is cooperation and collaboration, not competition. In 2020, the Institute launched the network of Women Community-Builders in Jerusalem in order to further that vision, and their cornerstone project is to have more women run and elected to Communal Administrations in Jerusalem, an arena in which they can have considerable impact on their communities.