Yesterday (February 24, 2016), I attended the Women & Business conference, Israel's 2nd Annual Summit in Tel Aviv. 
Being the owner of my copywriting business means that I attend conferences often; at least once and sometimes twice a month.
At most conferences, most of the speakers are men. And though 51% of the Israeli population are women, women are underrepresented time and time again at conferences, as winners of prestigious awards and in every other facet of life. Naturally, what made this conference so exciting was the vast number of women speakers who are doing amazing things, talking about it and making themselves available to other women.  
The conference was chaired by Orly Vilnai, an Israeli journalist and TV host, who was simply charming.
Here are the 7 things, I walked away with from the conference:
1. It's not enough to be financially literate, understand the stock market and run the finances and investments of your household. Teach your kids. Especially your daughters.
A recurring theme throughout the conference was the encouragement of women to take  financial responsibility.
I was raised with a father of who to this day takes full responsibility for the financial running of his household. He brings home most of the money, he decides how it's spent (for the most part), and he's responsible for keeping the household financially afloat. He was always exceptionally good at it.
I assumed my household would run almost the same way. And since my husband brings home most of the beef, holds a degree in economics and was a financial analyst, it seemed only natural that he would want that role. I couldn't have been more wrong.
2. Push your kids hard in school
One of the segments of the event I considered skipping, was an interview with Chedva Ber, Israel's Bank Commissioner. I was so happy I didn't.
Chedva Ber's father is the reason she cited for where she is today. She spoke of him warmly as a man who always encouraged her and told her how bright and capable she is. On an evening before a test, he would also not let her out of the house until he tested her to make sure she knew her stuff.
I push my kids. Hard. It's extremely encouraging to hear that it's a great thing to be doing. Because sometimes, it just doesn't feel like that way.
3. Be compassionate
Making it in a man's world is difficult and we may often think that in order to succeed we need to act like men, dress like men and be ruthless.
Saleet Granit gave an inspiring talk about her journey to becoming a kinder, more compassionate and human CEO. Her bottom line was that being a better person is good in itself. And it's also better for business.
4. Being an entrepreneur means embracing failure
As a kid, a tween and a teen, I was an expert failure. I flunked my way through school, I had no friends and my self-confidence was in the toilet. Looking back, it's precisely these lows that have enabled me to build my life. Learning to fail means learning to stand up, dust your knees and try again. Success comes. But not without a difficult learning process and plenty of resilience.
Moran Bar, co-founder and CEO of Geektime, was the amusing moderator of an excellent panel of impressive entrepreneurs – Sivan Shamri Dahan, Sharon Argov, Merav Oren, and Moshit Yaffe. They spoke about entrepreneurship and what it means, mainly moving through failures without losing drive.
5. Know thyself – like you've never heard it before
Here's the spin that Ruth Biderman put on the old adage of "know thyself."
Want to know how to identify the secret to success?
Look back at your first success story. Identify the elements that make it a success story. Write them down. Go to your second success story. Identify the elements that make it a success story. Write them down. Repeat with your third, fourth and fifth success stories.
The characteristics that enabled your success will appear again and again in each of your success stories. Build on these. These are the secrets to your success.
6. Women must stop being battered. They have to want more for themselves.
There's no doubt in my mind that the best part of the conference was saved for last. Vered Cohen-Barzilai was the wonderful moderator of an exceptional panel.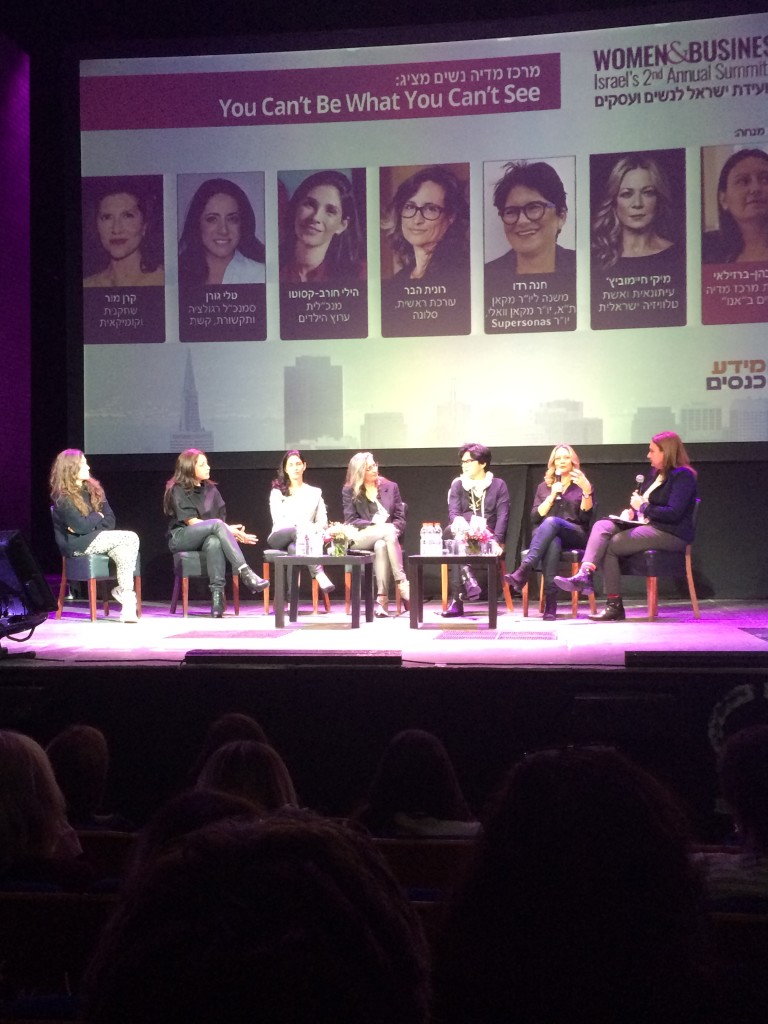 Miki Haimovitch, Keren Mor, Hana Rado, Ronit Haber, Hili Horev Cassuto and Tali Goren spoke about the need to have more women in strategic places of power within the television industry. Women are clearly visible as anchorwomen, but are rarely brought in as experts. As such, women must help each other out.
"We're all battered women," said Hana Rado. Every time women are underrepresented it's as if someone is giving them a black eye. It has to stop and with social media it can. Rado suggested that every time women feel they should be represented in a place where they're not, they should become vocal about it. Make the cry heard. Let the media know that as women we refuse to be left out of the spotlight.  
Miki Haimovitch spoke about the pain she felt when she left Channel 2. Nobody spoke about the risk she took at making the leap to leave a well-known news channel, for one not yet established (at the time). But all were quick to judge that she left for more pay and better terms. For men, she says, it's legitimate. For women, not. In fact, a male colleague said something like "we know about those women who do things for pay." There can be no doubt that Hana Rado was not exaggerating abuse.
Ronit Haber: Women should not fear making more money. They shouldn't be embarrassed by their success. These women should be proud of themselves and proud of their accomplishments. And they should enjoy spending their money.
Tali Goren shared her bitter experience of receiving half the bonus a male counterpart received. Tali Goren said this: "We are raised to say thank you. But I don't want to say thank you. I want to say, I want more." Her message: it's ok to say "I want more. I deserve it."
7. Want to change the world? Start with yourself.
I really loved that a recurring theme of the conference was tikkun olam – mending the world. Israeli society is profoundly united in its belief that someone else is responsible for different aspects of its misery. So it was beautiful hearing a different voice, and a different song. It seems clear to me that all the women who spoke at this conference strongly believe in their vocation to change themselves and their society. They believe in the need to empower, inspire and help other women succeed. To paraphrase Orly Vilnai: every global change begins with self-awareness, courage and constant work on ourselves.
Apart from these takeaways were of course the several conversations I had with other women who attended. Though I didn't mention all the panels, or everyone who spoke, I left the conference feeling wholly inspired by all the women who I heard speak.
This is definitely a conference I'll be attending again next year.