Bat-chen Grinberg is the founder of the training centre for B2B marketers,

MC Forum

, and the creative director of FailCon. Prior to that Bat-chen was responsible for establishing the first international distribution network of its kind in the field of media and film productions, developing the international market for documentaries, including the award-winning animated war documentary, "Waltz with Bashir."
I met with Bat-Chen met at WeWork Sarona in Tel-Aviv, a beautiful workspace environment for entrepreneurs, freelancers, startups and small businesses. Nothing could have prepared me for this very special encounter. Bat-chen was lavish in her marketing advice and stories and about her journey and success. I'm so excited to share the details of our conversation with you.
How the movie "Waltz with Bashir" Almost Didn't Happen
"Waltz with Bashir" is a heartbreaking masterpiece. Its powerful story breaks the barriers of time and space, penetrates your heart and simultaneously builds and destroys your faith in mankind. 
It's hard to believe that at one point, its director, Ari Folman, didn't believe in its international appeal. 
At age 27, while Bat-chen was working for Channel 8, she was asked to join a meeting with Ari Folman and Channel 8's former General Manager Sinai Abt. 
Together with the GM, she watched the first segment that Folman had created.
"Our jaws dropped," she says, "the entire scene was just overwhelming."
The appeal of the movie was clear to both Bat-chen and Channel 8's GM. They appealed to Folman to join them on their already booked trip to Toronto, explaining that this would help them secure funding.
She couldn't believe it when Folman said NO. In fact, his reply was:
"Excuse me young lady, but this is a war that happened in Israel. No one in the world has even heard about it….this will never be distributed around the world. No one cares about a minor war that happened in a minor place in the world, called Israel."
Bat-chen couldn't believe it.  She couldn't believe that Folman didn't see the potential in his own work.
"This is a story about a soldier in a war, regardless of where and when it happened. This story will appeal to everyone in the world!" she tried to convince him.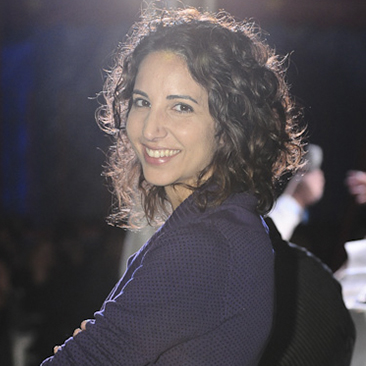 "That was a turning point in my life. That debate. The fact that I have to explain to Ari what I'm seeing but he doesn't see it and doesn't agree with me, was a shocking experience…He's used to being right. He's not used to listening to a 27-year-old girl."
For one long hour Bat-chen debated with Ari Folman about the international appeal of "Waltz with Bashir." Folman finally relented, agreeing they call Toronto to find out if he could pitch. 
Pitching sessions were already closed, but after some convincing, Folman would pitch "Waltz with Bashir" in Toronto.
It suddenly dawned on me, that the only thing stronger than an Israeli man, is an Israeli woman.
They all flew to Toronto. They sat in a big auditorium, with different broadcasters and production companies from around the world.
Folman gave his seven-minute pitch and showed his creation. At that point the audience was supposed to ask questions. But not a single person did. They just stood up and applauded. 
"I felt at times that I was in the department just to get "Waltz with Bashir" out…if I wasn't there to show it to him, this would have been another Israeli production – still great, but just in Israel. This wouldn't have gone out to the world!"
"It was a turning point in my life where I realized that I have…intuition. That's when I started the search, because I understood that I shouldn't limit myself or restrain myself to just one company or just one product." 
Failure and FailCon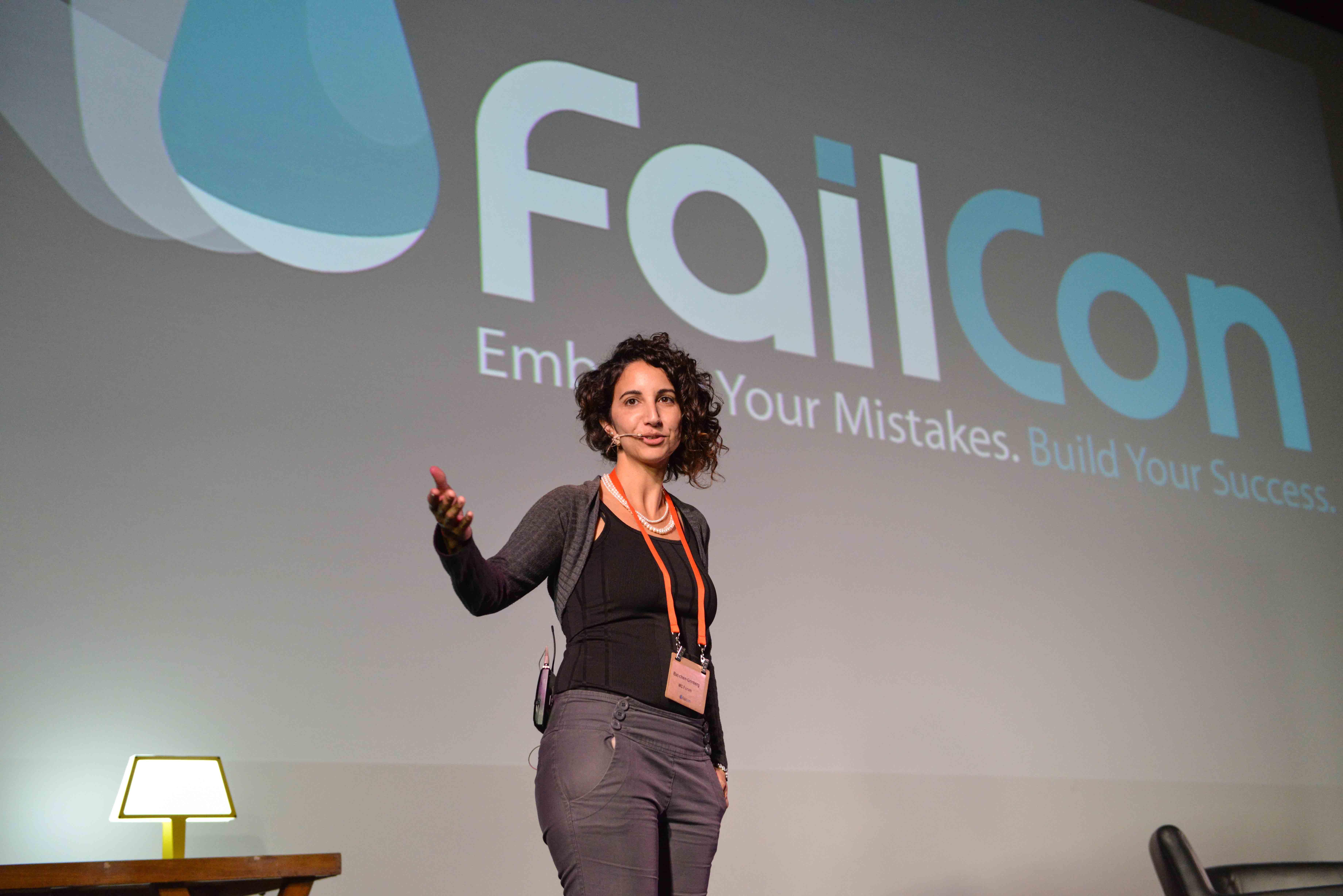 I ask Bat-chen about FailCon – the conference featuring failures.
"The failure conference started out in San Francisco in 2009. I licensed it to Israel in 2013 and I produced it in Tel-Aviv in 2014. Three days after the production, I got a phone call from San Francisco telling me that I just produced the biggest FailCon in the world."
FailCon was a great success.
I asked Bat-chen for her definition of failure.
"Failure is a consequence of many mistakes being ignored along the way."
Big failures don't just happen to everyone, she explained. On the whole, women are more careful. They try to fix things along the way, so that their mistakes don't compound into big failures.
But of course, women fail too. Some women also fail on an epic scale. But Bat-chen's point is well taken;  pay attention to your small mistakes on the way and maybe you'll be able to avoid big failures down the road.  
The Problem with being Modest
"What held you back in your career?" I ask.
"I was educated to be modest," she replies, "trying to prevent myself from being arrogant or cocky, I simply downgraded my achievements on the way."
That hits me hard because it's all too familiar. I remember being told not to raise my hand in class. "Let other kids show that they know. You be modest."
Bat-chen goes on:
"Modesty is a big word, especially in Judaism, but there's a fine line that can easily be crossed, between being modest and underestimating your achievements."
"But how did you get over the modesty hurdle?" I ask.
"I'm not over it!" she tell me, "I'm aware of it. I've woken up [to] the distinction and the fine lines between those words…In many ways this held me back in terms of where my career could have been today. So I'm still figuring it out…still in the process."
Bat-chen's words ring true. There's no doubt in my mind that modesty holds women back. I don't know if it's just a Jewish thing. But I will say that modesty is shoved down the throats of Jewish girls. Especially observant Jewish girls.
Don't get me wrong, humility is important. But if we teach our children, especially our daughters,  humility and to be modest about themselves and their achievements, we're giving them conflicting messages. While we're teaching them to achieve, we're also teaching them to ask for less than they deserve.
I'm so grateful to Bat-chen for her valuable time. I learned so much from her during the interview. If you're interested in learning more about Bat-chen Grinberg, check out MC Forum and FailCon.
TAKEAWAYS
During our two-hour conversation, Bat-chen and I covered many different topics. Here are some more valuable takeaways that came out of our talk.
1. 3 books every woman needs to read
i. Money: Master the Game by Tony Robbins
ii. Eastern Wisdom by Nissim Amon
iii. Creating Money by Sanaya Roman and Duane Packer
2. Top tips on using marketing to promote sales
i. "You win the marketing game with consistency. It's all about committing to small steps that you carry on for a long time. You don't want to strangle yourself into fast-paced activities or campaigns that will be hard to maintain…slow and steady wins, just like the race of the rabbit and the turtle."
ii. In your marketing messages, try to be authentic and use simple words. Some say "talk to them as if they are six years old."
3. The best advice for entrepreneurs
"Practice yoga on a daily basis. Even if you only have 5-10 minutes, it's enough. This will get you where you want to go! Breathing and stretching makes the world move around (along with sex of course…)."