Meet the founder and CEO of Jasmine.  Kiram Baloum is teaching women from all sectors of Israeli society to put themselves higher on their own priority list and to think economically.
What is immediately clear in my meeting with Kiram, is that she is an inspirational leader. She is kind and generous, her answers cut deep into the heart of the matter, and she is all about trailblazing the way to meaningful economic change for all Israeli women, across all sectors.   
Most Women Succeed Because Somebody Believed in Them
Kiram grew up in Tayibe. She is one of nine children – four boys, five girls. And though boys may be more desired, it's the girls who Kiram's father empowered. From a young age, Kiram received an abundance of love and support from her father who would say such things as "I believe in you," "I count on you," "you can do it."
"He focused on empowering the girls because he always said that girls are people you must invest in so that they move forward. He always said that we have to study beyond just grade 12. 'You need to have an academic degree. A degree is a weapon that protects you.'"
From that stronghold of love and support, Kiram was able to grow into a woman who chose her own path. "Most women," Kiram explains "became teachers or secretaries." But Kiram chose a different path because "I was allowed to go in that direction and nobody stopped me. And if something else would stop me, he would say, "I count on you."
Kiram's father taught her and her brothers to be independent. From a young age her and her siblings were financially independent. During the summer months they worked for their school books, supplies and school clothes. And that  gave Kiram an unbelievable feeling of fulfillment.
Kiram is now duplicating the model she saw at home and bringing it to Jasmine.
Through building women's confidence, helping women become more independent and leading by example with a strong work ethic, Kiram is helping promote women's economic development and even helping impoverished women enter the Israeli workforce.  
"Most women who succeeded, it's because somebody believed in them," Kiram says.
She goes on to say, "This system that I grew up on turns women into independent people. [Jasmine] is like a family. I count on them. I want to push them, to help them become independent."
Women have to stop blaming and take more responsibility
There's a lot of talk about the male-dominated world that we live in; that women are discriminated against; that there's a wage gap and that we need equality between the sexes.
"But you're a mother, you're a sister, you're the wife of, you're at the centre of things and wherever you are you can influence. When you bring that son into the world, raise him to be like my father."
I love this. How beautiful. How simple. If only.
Kiram explains.
"We women are responsible for the situation that we are in. Because we don't internalize the fact that we bring men into this world and raise him. We can raise him so that he goes out into the male-dominated world and behaves differently. On the other hand, we don't do enough for us to have an equal status to that of men. And that's why we always blame others that we're like this."
We go on to talk about responsibility.
"Even if you're not entirely responsible, you take it upon yourself and you say, 'I'll solve the problem. But if you don't act responsibly, you're always blaming somebody else."
Kiram's point is that as long as women are blaming and not taking responsibility to change the situation, change will not come. It is up to women to make change happen, but this can only happen when they act.
Economic Thinking 
Founding Jasmine taught Kiram to talk about money and think economically.
She quickly learned that it's a woman thing to be scared or embarrassed to ask for payment.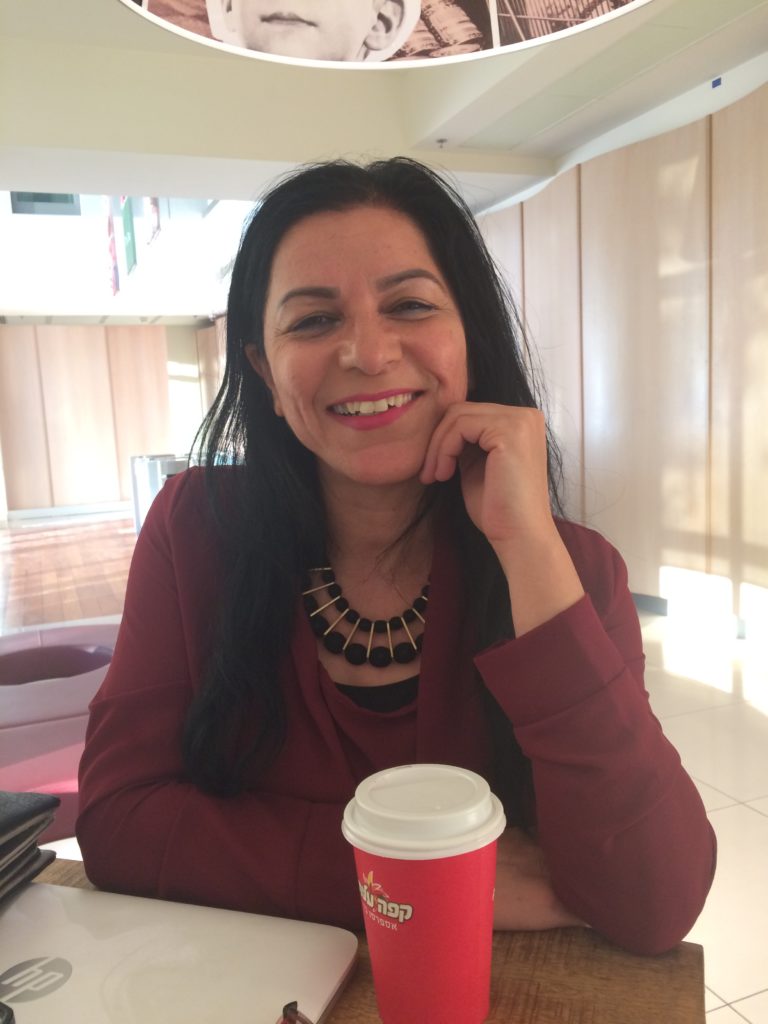 "In the Arab sector people write down debts. And then when the debt grows she [the typical Arab business owner] is scared to ask for payment. Why? Because she's scared her customer will stop buying from her. We teach her not to work that way. Because she'll lose. We educate and lead [women] to a different place."
I never really thought about its importance until Kiram said it.
"If I don't think economically and if I think only about the other person, I turn into a victim. When I put myself at the bottom of my priorities and I devote myself only to my family, I miss out. I'm not thinking economically."
But what does thinking economically mean?
"It means raising myself from the bottom of my list of priorities. Not to the top. To the middle. If there's a course and I can get knowledge, economically it's good for me. Not everything is about money. Sometimes it's about things that are worth money."
Kiram asks me if I understand. And I think I do. When we think about economics, we're not necessarily talking about money. We're talking about an exchange. It involves thinking about others, but also about one's self. Because only thinking about one's self is not sustainable in the long run. And this is where women can turn into victims; victims at their own hand.
So what can be done instead?
Economic thinking.
Kiram explains. "Economic thinking is a way in which I can receive and also leverage myself. When I come to a meeting with you or with someone else I'm not coming with 100%. I'm thinking win/win. I'm coming with all my energy to sell you my ideas and I'm coming with a spark."
I'm grateful to Kiram for her valuable time. Learn more about Kiram and her fantastic work at Jasmine.