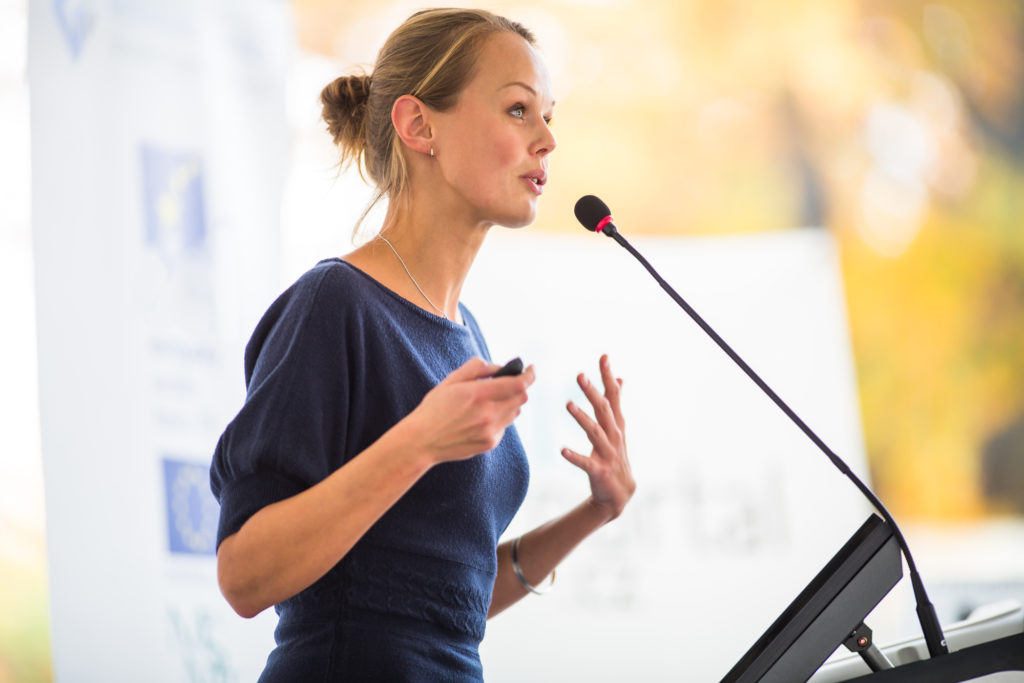 As we head into the difficult month of September and getting us and our families back into healthy routines, I want to arm you with the most inspiring, courageous, and helpful TED talks I've come across. Find the time to view them and where relevant, incorporate into your life.
1. Amy Cuddy – Your Body Language Shapes Who You Are
Our body language is significant and makes a difference not only to the way others perceive us, but the way we perceive ourselves. 
2. Mel Robbins – How to Stop Screwing Yourself Over
You'll love this talk that will motivate you out of your comfort zone. It's simple, but it's not easy. It's time to stop saying things are fine, and get out there.

3. Sheryl Sandberg – Why We Have Too Few Women Leaders
I'm a big fan of Sheryl Sandberg's. I think she's a bold leader and feminist. In this talk she delivers a strong message, in a way that only Sheryl Sandberg can. No doubt she's right – keeping women in the workforce is the way to have more women in leadership. She states statistics that are hard to hear but important that we understand. If women want to sit at the table, there are some difficult sacrifices that they will have to make. At least for now.  
4. Brene Brown – Listening to Shame
Brene Brown is an exceptional speaker on vulnerability and shame. Listening to Shame is her follow-up talk to The Power of Vulnerability. And if you missed it, you should watch that first. 
5.  Elizabeth Gilbert – Success, Failure and the Drive to Keep Creating
Ok, so I haven't read any of her books yet and maybe I should. But until I get there, I will keep listening to Elizabeth Gilbert talk about success, failure and creativity.  This talk is is short, inspiring, and important.
And if you want more of her, (because you love her as least as much as I do), you can catch her on her Magic Lessons podcast.  
6. Aimee Mullins: The opportunity of adversity
There are a lot of important lessons here about transformation, adversity and sense of self. As a society it's important that we recognize that language affects our thinking and how we view the world, but it can also hold us back from evolving positively. 
7. Chimamanda Ngozi – We should all be feminists
So of course I totally agree – we should all be feminists. Because feminism is a moral issue not a woman's issue. But that's not what Chimamanda's talk is about.
Listen to this talk to hear Chimamanda talk about feminism being a loaded word and how we need to raise our daughters and our sons differently to create a more fair and better world.
8. Amanda Palmer – The art of asking
I struggle with this – asking, I mean. Asking ties back to vulnerability. And maybe that's why it's so hard for me. But this TED talk is so incredibly inspiring. Amanda Palmer shares the beauty of her experiences in asking, trust and reciprocity and more than I can say in just a few sentences. Just watch.
9. Reshama Saujani – Teach girls bravery, not perfection
As one raising two daughters, and still raising herself, this talk is important. It's about how we approach challenges differently than men. And it will help us answer the question of how we can teach ourselves and our ambitious daughters to be brave.  
10. Shonda Rhimes – My year of saying yes to everything
Since I've been young, I've pretended to be tough. In fact, it's become a habit I still find hard to shake. This talk helped me to understand the power of yes. And this past year when I attended a fabulous course in improvisational theatre, to help me overcome my fear of speaking in public, I understood more deeply why "yes" is so important. In this talk, titan Shonda Rhimes will have you to strive for greatness, inspire you to stop, say yes and find your happy place.    
11. Debbie Sterling – Inspiring the next generation of female engineers
If you've never heard of Debbie Sterling and even if you have, you have to listen to her journey to becoming an engineer and how's she's effectively helping our world nurture more female engineers.
12. Laura Bates – Everyday Sexism
This is a really courageous talk. Yes. Every woman harbours their own personal sexist story.
Laura Bates' "you need to learn to take a joke", is my "you're an Orthodox Jew that's why you're sensitive," but no. They're the same talk of women or men thinking that sexism is okay.
Yes we live in 2016, and yet sexism is still everywhere. Women are equal more or less. Many times it's less.
It's time to make a fuss, and Laura Bates has started making that fuss and is making a difference.  
12. Laura Sicola – Want to sound like a leader? Start by saying your name right
"If you want to be seen as a leader, you need to sound like one."
So you might already know that vocal tonality and body language are more important than word choice.
But did you know that when you introduce yourself to others you can help your listeners hear your name and process it better?
13. Amy Morin – The Secret of Becoming Mentally Strong
Destructive beliefs hold us back, but we can work on ourselves to become mentally strong. This is a really powerful talk mostly because of Amy's personal experiences shaped her into an authority on mental strength and the ability to overcome challenge's life throws our way.
14. Catherine Courage – Igniting creativity to transform corporate culture
There is such an important message here – we are all creative thinkers, and it has to do so much with challenging the status quo. There's no one way to do thing, but it's vital to feel bold and courageous enough to ask questions and think differently. Which goes back to issue of why it's vital we teach our daughters to be brave. (See talk #9).  
15. Stella Young – Inspiration porn and the objectification of disability
This is a short, courageous and important talk. We've got to stop looking at disabled people as objects of inspiration. As a society we'll have to work very hard to make that happen. But the first step is to be aware that it's happening. 
16. Adrianne Haslet-David – What people say when they don't know what to say
This is a really difficult talk. I don't think any of us intentionally think about themselves when visiting a suffering friend. But we do. This talk serves as a good handbook for how to support a suffering loved one. I pray that we should never see our loved one suffer, however naive of a wish that may be.
17. Amma Asante – The power of defining yourself
What happens if you don't fit society's expectations? The question applies to all of us, even if we're not public figures. Especially if we think of society in a broader term – our family or friends.  So while Amma doesn't actually say that, she does ask the very important question of "whose truth wins? Your truth or society's?"
What's your favorite TED talk, delivered by an exceptional woman?