Meet the Weizmann Institute's scientist who's helping girls excel in chemistry. 
The Davidson Institute, the arm of the Weizmann Institute that promotes and nurtures scientific education in Israel, is where Yahel Atsmon works today and two doors down from where she slept as a high school student learning science during summer vacation at the Weizmann Institute. Yahel Atsmon is the scientist turned high school chemistry teacher who passionately molds young minds, helping students, especially female ones, to teach themselves and believe in their capabilities.
I met up with Yahel at the Weizmann Institute of Science to learn about how she's passionately helping making chemistry accessible to more girls.
The scientist who felt she failed
Yahel studied in high school at a time when there was no bagrut  requirement. In fact, she studied in a kibbutz school where at the time they believed that the concept of bagrut contradicted the socialist idea.
Yahel studied with teachers who went into teaching because they believed in education and they brought their love of knowledge and great devotion into the classroom.  
Her teachers were her role models. And she's still in touch with some of them today.
Yahel talks about her high school teachers with admiration, she remembers them as "people who built themselves within a system that is not standard," people who would help their students find solutions so that they could succeed.
Yahel's intelligence, competitive nature and excellent teachers contributed to her star-student status. She was at the top of the class. In every subject.
When it came time to choose a career, Yahel studied industrial design at the Holon Institute of Technology. She  then did a second bachelor's degree in biology and chemistry at Tel Aviv University and then returned to the Weizmann Institute to pursue a Master's and Doctorate in an accelerated Phd degree chemistry program.
But things started to get tricky. Because by that time, Yahel was married and pregnant with her first child. But even then, Yahel thought nothing of it, because when she was asked "how will you manage with children and a lab?" she replied simply, "I'll manage like everybody else manages," she replied.
What Yahel didn't know then, but learned the hard way, is that if you don't have a conversation with your spouse about responsibilities, the default is that child-rearing responsibilities fall almost entirely on the mother. And if there's a need to give up on a career, it's going to be the mother who gives up on hers.
But Yahel's not one to easily give up and during her Master's she would wake up at 4am to go to work so that she could finish at 3:30pm to make it on time to pick up her son.
But because her schedule was more hectic, she decided she wouldn't fast track. She would first complete her Master's degree and then begin her doctorate. And so she did. But by this time she was pregnant with her second child and all sorts of issues with eldest her son began to become apparent.
Somewhere around four years of age, he was diagnosed with being on the autistic spectrum.
At that point Yahel was working on her doctoral thesis and on building big complexes of RNA that would snap on to each other like Lego pieces. But there were issues with that as well – "great idea, but it didn't work at all," Yahel recalls.
And then, towards her 35th birthday, Yahel had to submit a progress report.
She was now pregnant with her third child and knew that the year ahead would be very intense for her eldest child with special needs, as he would need very intense preparation for grade one.
And in the background of all this, Yahel's husband had just made an exit with his company.
With all of this is going on, Yahel found herself sitting in a meeting about her doctorate when it's clear to her that her doctorate isn't progressing. And she's tired. And she has no strength.
"Nothing worked. Nothing. And I said, ok, maybe I need to say 'let's quit.' That's the story of failure. It took me a year to mature and be able to bring myself to a place where I say enough. That's it. I raise a white flag and declare that I failed. And I'm very bad at failing…I'm a very competitive person."
"They were a bit in shock that that's what I had to tell them, but when you think about it and you look at all the conditions, you say 'it's not going to work.' You have to give up on something. You can't also have a child with special needs and a husband that just made an exit who won't be home 7-10 days a month and a third pregnancy. You can't do it all. And so I gave it up. I gave up the doctorate."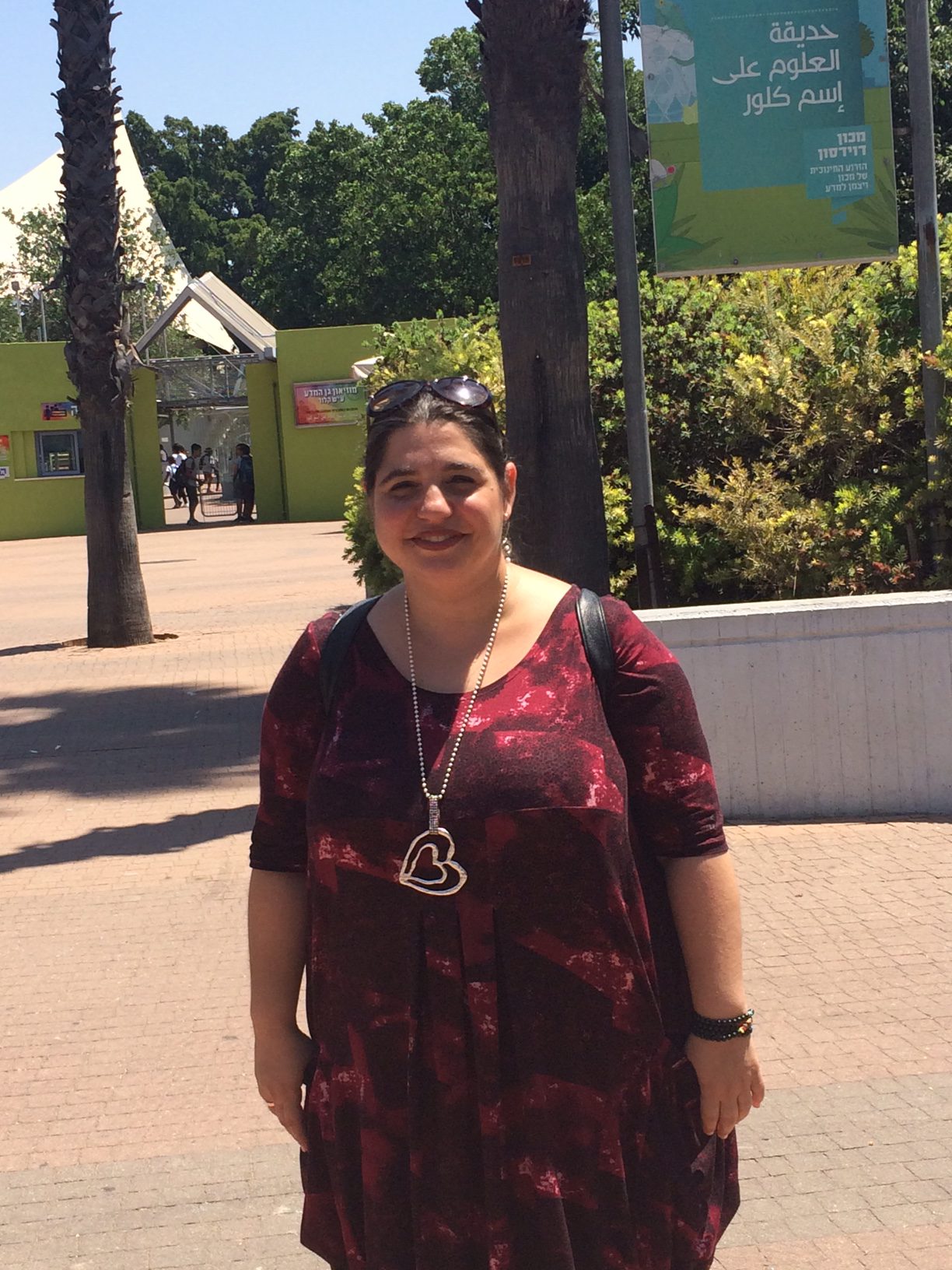 A new way of teaching chemistry
As part of the Weizmann Institutes's vision to make science more accessible,  it offers a free program whereby alumni and students come once a week for two years to earn a teacher's certificate. Yahel enrolled and got her certification to teach.
And now while she teaches chemistry to high school students, she doesn't teach in schools. In fact, Yahel explains that  and increasing number of schools are ceasing to offer chemistry as a major. And only 10-15% of religious schools for girls and yeshivas for boys, offer chemistry.
…there's something in teaching, in the contact with students that leaves you happy and alert. They're smart kids. They challenge you. They don't simply accept what you tell them.
What began as Rachel's Eidelman's doctoral dissertation on distant learning has turned into a successful program through which students from all over the country are learning chemistry on the web. A subject which would have otherwise been completely inaccessible.
Once a week, students connect to the web and on the other side is a teacher. The students and teachers interact through chats and in fact most of their studying is done independently. Students must be very self-motivated. But it's this that enables them to feel so empowered. Davidson Institute research results prove that students feel that for the most part, they've succeeded on their own.
And while Yahel could have taught in a senior position at a regular school, Yahel chose to stay at the Davidson Institute where she feels she making a real difference to the lives of 16 and 17 year-olds.
"I have the feeling that even if I'm too old to change the world, they're at the right age to change the world… So even I won't be the next Nobel prize winner, maybe the next Nobel prize winner will come from them."
Women Empowerment Par Excellence
"We as women, we're the only ones that will make a difference," Yahel says.
She goes on to tell me about her charedi female students. About the generational gap that exists between the teachers of these charedi female girls who are comfortable with technology and are more aware and exposed to the culture their teachers still fear.
Most of Yahel's students are girls. Many are religious. Some are charedi. Many learn in schools that don't offer chemistry and many students live in the periphery where education is known to be on a lower level than in the major cities.
Yahel tells me about her last classes, which she will be teaching next week.
As 80% of her students are girls, she'll be teaching a final class on women in science. And though it wasn't Yahel's idea, she knows it's a great one because "it will give them [the girls] a reflection of the current situation but also a certain push…that they have a role. They have a role to change the current situation, that it can't be that when doing a Bachelor's the majority of students are women, and even in at the doctorate level of biology and chemistry, the majority [of students] are women…but when you get to a post-doc or becoming a faculty member, there's a huge drop."
I try to comprehend the incredible impact that Yahel is having on these students. Not only are they learning a subject which would not otherwise be readily available to them, and not only are they learning from the best.  Yahel's students are receiving a top high school education from the cream of the crop of science teachers who are not only teaching them science, but also educating them towards the higher goal of keeping them in the system long-term.
Yahel gets to meet her students during school breaks when they come to the Weizmann Institute to attend labs. During the year, Yahel provides tremendous support to her students through WhatsApp groups that she has with each of her classes. "They become much more than students," Yahel says, "and if they want to learn we'll go every distance to help them."
Interestingly, Yahel has become a teacher like her own high school teachers – teachers who will go to great lengths to see that their students succeed.
I'm very grateful to Yahel for her valuable time. Learning about the amazing impact she and her colleagues are having on education and specifically on girls' education has been so incredibly inspiring.
To learn more about Yahel's work and the amazing programs the Davidson Institute offers, check out the Davidson Institute's website.
Takeaways
During our two-hour conversation, Yahel and I covered so many things. Here are a few more valuable takeaways from our conversation.
1. 3 Books Every Woman Needs to Read
i. Anything by Ephraim Kishon – he puts life into proportion
ii. Me Before You by Jojo Moyes – because he's very sweet and life isn't always sweet
iii.  Online fan fiction – it's mostly written by women and their views of the world are very very interesting.
2. What's the best piece of advice you ever received?
Not a piece of advice, but more of a feeling that you're not alone. Even during the most difficult periods when I was here, there was a dean of students, Dr. Lia Addadi…and she gave me the feeling that I'm not alone….and that's what we try to do for our own students….there's always someone who's here to help you.  
3. What are some lessons for success that you can pass on?
i. Don't be afraid of failure…You can get up and continue and you can find better things. Sometimes failure takes you to your better places…Learn to deal with failure. Don't turn it into something you can't recover from.
ii. Figure out your priorities and put your efforts there. You're going to have to sacrifice something. There's nothing you can do about it. Time is limited.