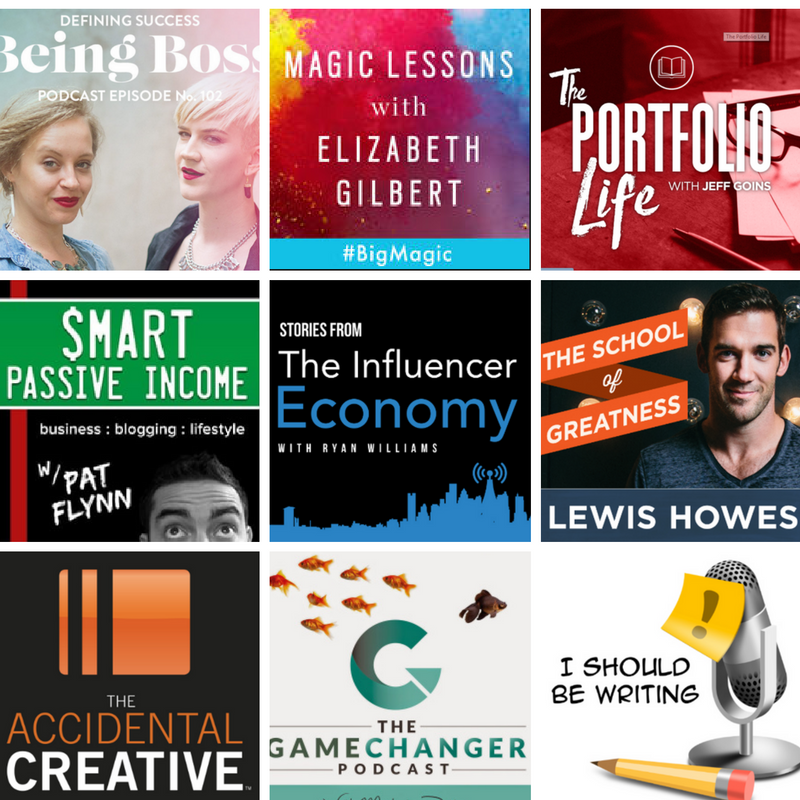 I am the Queen of Podcasts. I say this because at the moment, I'm subscribed to 85 podcasts. The number fluctuates as I add more, and more rarely, get rid of some. Podcasts are the best reason to go for a drive and they're the reason I don't mind being my kids' personal cab driver, often even waiting for them in the car while they attend whatever lesson or activity that's in their schedule.
But not all episodes are created equal. There are good episodes and there are great episodes. But the greatest episodes of all are those for which I have to stop on the side of the road (if I'm not parked), and take notes.
(Note: There are plenty of entertaining podcasts, which I love, but there's no reason to take notes. I won't be mentioning those. If you're interested, let me know in the comments section and I'll be happy to share my favorites.)
One caveat. This list should be much longer. Except that many times my notes omitted  crucial information that would help me decipher which podcasts and episodes I in fact listened to. (Note to myself: take better podcast notes in 2017.)
Without further due, here are the 9 greatest podcast episodes of 2016:
This was my first Being Boss episode. And all it took to get me hooked.
i. "A business model is a system for creating, delivering and exchanging value." All three pieces must be in place.
ii. When you have a strong business model, all parts of your business are working together; so when you promote one product or offer, you'll reap benefits in other parts of your business.
iii. If your business isn't growing for a few years in a row, chances are it's not built to make more.  
I love when Elizabeth Gilbert and Brene Brown speak. They speak deeply, profoundly and authentically.
i. Creativity is the only unique contribution that we will make in this world will be born of creativity.
ii. Creativity is not about what we do, it's about who we are.
iii.  Inspiration owes us nothing "except for the transcendence of the experience of working with it…"
I'm a person who until recently has mostly avoided networking. That might be the reason I learned so much from this episode. Some lessons I learned:  
i. "The reason some people succeed in creative work and other people do not is because of networks."
ii. "You don't build success by yourself."
iii. Communities to build success are more attainable than ever before.   
Daniel Decker manages a launch team to help Pat Flynn launch his book Will It Fly.
i. A launch team helps support your book and launch it in an amplified way. It's leveraging the community.
ii. A launch team can be used for products as well as books and it's a low-cost opportunity
iii. People want to support you and 50-100 people are enough to help you launch your creation and make it a success.
Jay Samit brilliantly breaks down why entrepreneurship is so vital and how
entrepreneurs can succeed.
i. We have 2.3 billion millennials coming into the job market at one time. If we don't teach people to create their own jobs, we'll be in a lot of trouble.
ii. Self-disruption is vital for leadership and entrepreneurship.
iii. Make two affirmations every day:
Today can be better than yesterday

I can make it so   
Lewis Howes meets with John Assaraf, a leading behavioural and mindset
expert.
i. In the game of life, you have to decide which level you want to play on. And
each level requires a different mindset and a different skillset.  
ii. Give yourself one command and follow-through – reduce it to the ridiculous.
iii. Be committed. Being interested isn't enough.
Bill Taylor, the co-founder of Fast Company magazine tells about how you can be
more effective.
i. There's always going to be someone cheaper. The most successful
companies figure how to deliver values.
ii. In a world that filled with technology, people are searching for a more authentic sense of humanity
iii.  Businesses should look for ways to be more fun, human and memorable. Companies don't need to do that much to be different.
Michelle Dutro interviews Dr. Kathy Gruver. I listened to this podcast on a Friday while driving through Jerusalem frantically searching for my daughter, while Dr. Gruver was providing practical tips on reducing stress. Good timing.
i. "We always have the ability to make a different choice."
ii. Allow yourself to be vulnerable and ask for assistance. Don't let things get critical.
iii. Mini meditation that can be done anywhere – inhale and say "I am"; exhale and say "at peace"
I love this episode because it's got some great truths and tips:
i. "It's always fun to write something new because it hasn't betrayed you yet."
ii. Read Joseph Campbell's The Hero's Journey and Save the Cat for story arc
iii. If a character doesn't develop, he needs to die. Think Hamlet.
I pulled out delicious tidbits to whet your appetite. Now do yourself a favour and go listen to these episodes and subscribe to these amazing podcasts.
This is of course not an exhaustive list. Add your favorite 2016 podcast episodes in the comments section below.