Yesterday was the first of the two-day Globes Israel Business Conference 2018 held in ICC Jerusalem – International Convention Center (aka Binyanei Hauma).
Globes is Israel's leading business newspaper, so it's not surprising that the conference attracted a lot of big names including, the Honorable Reuven (Rubi) Rivlin, President of Israel, Dr. Hedva Ber, Supervisor of Banks, Professor Shmuel Hauser, Chairman of Israel Securities Authority and Zvi Stepak, co-founder and Chairman of the Meitav Group.
And while Globes has been hosting the conference for the past two decades, the notable difference this year, is that Globes' ownership is in the hands of Alona Bar-On and Anat Agmon, the first two women to own a major media outlet.
This change of ownership is significant, not only because Alona is the daughter of Globes' founder Haim Bar-On, but because Alona has taken full ownership of the direction Globes will take in the coming years.
This shift is already noticeable and Alona does not hide her ideas on what it means to run a print newspaper in 2018. In fact, she openly shares them with humble pride and a deep sense of responsibility to herself and to her readers.
Authenticity
Alona had no plans to take ownership of Globes. Except, that one day she received a WhatsApp from a friend who sent her an image from The Marker with an announcement that the banks were selling Globes. And maybe, almost like an instinctive reaction, Alona set out to fight for the paper. Not for her; she didn't want it. But she hoped to find the right person to take over Globes. Except that Judge (ret.) Hila Gerstel gave Alona 48 hours to decide if Globes was important enough to buy it.  
Today, together with Anat Agmon, Alona Bar-On owns the newspaper that her father established. As she said in the conference "in a time when Donald Trump has branded fake news as an epidemic, the public is beginning to understand that it needs to pay for a remedy, that is unbiased, independent, first-rate information." It is, as Alona described a newspaper based on respect and and tolerance that highlights issues but doesn't slander entire sectors. In other words, it's responsible and authentic journalism that is dedicated to its readers.  
Values
After the conferences morning plenary sessions, simultaneous sessions took place in different halls. I attended the session called "Why do businesses get up in the morning?" The session included talks by Dr. Yael Almog-Zackai, Chairwoman of Conscious Capitalism Israel and partner at Gitam BBDO and Zvi Stepak, co-founder and Chairman of the Meitav Group and then a panel that also included Itzik Zaig, CEO of Osem, Ghada Zuabi, owner and CEO of Yara Communications and Belha Abrams, VP of International Relations at Intel. Stella Koren-Lieber, moderated the panel.
Wealth, power and responsibility are interrelated. Dr. Yael Almog-Zackai gave an interesting talk about working towards conscious capitalism, the idea that four principles – higher purpose, stakeholder orientation, conscious leadership and conscious culture enhance businesses and create value and more sustainable businesses.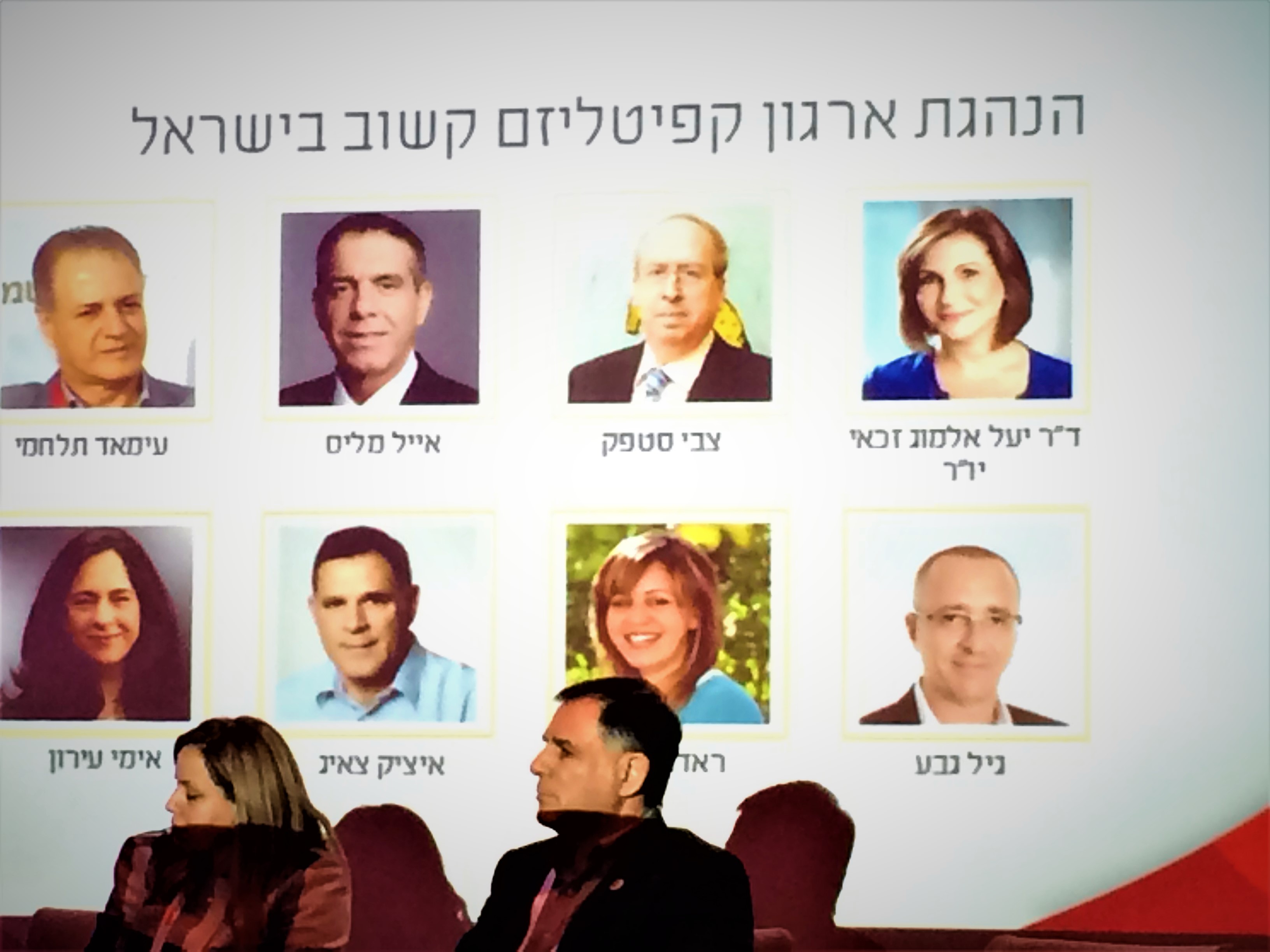 Zvi Stepak boldly spoke about the aggressive and even destructive nature of the business sector. He mentioned the trend of mega-companies who have more power than countries and the tremendous responsibility that comes with it, as well as the nascent counter-reaction. Perhaps what I connected most with were is words "the real threat to capitalism is populism."  
I often feel that Israel has strong socialist tendencies. And while you can't (read: shouldn't) build a country that neglects its sick and poor, you can't build a country that hands out money with no regard to merit of ideas, creativity and production. But in Israel, where things somehow always get muddled, there seems to be a prevalent idea that corporate fat cats are always the enemy.
This session at Globes shattered that claim. And all panel participants, shared their ideas on corporate responsibility as well as outline the practical ways each is working towards conscious capitalism and bettering society. Of course, the excellent moderator didn't give them an easy time, and it is clear that there is at least sometimes there exists a dichotomy between lowering costs and doing what is right.     
Inclusion
Perhaps the strongest theme that came out of the day, was inclusion. As part of Alona Bar-On's vision for Globes is the idea of diversifying the conversation. "There are entire sectors being left out of the conversation," she said; women for the most part, but not only women, the charedi sector, Arabs, Druze and the list goes on.
Perhaps as proof that Alona means business, is that in this conference 43% of women were speakers and panelists. From just looking at the program, it's obvious that something has changed.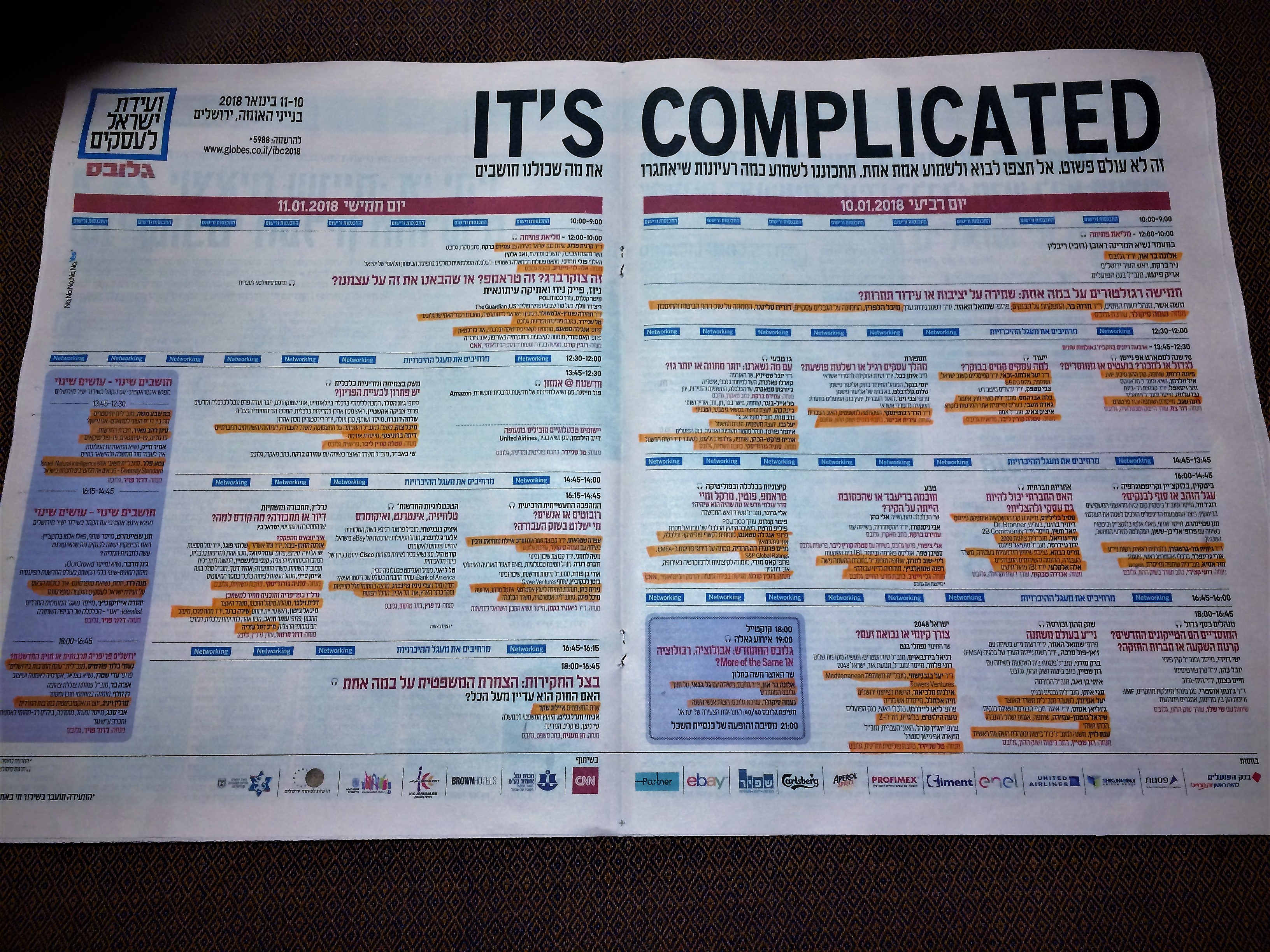 No doubt, this will trickle down into other conferences as conference organizers understand that women want see more women and so do men.
The ideas of authenticity, values and inclusion were central to yesterday's part of the conference and no doubt that these ideas are a part of the new Globes. We can only hope that they will spread and revolutionize not only media outlets, but also businesses, organizations and even government.