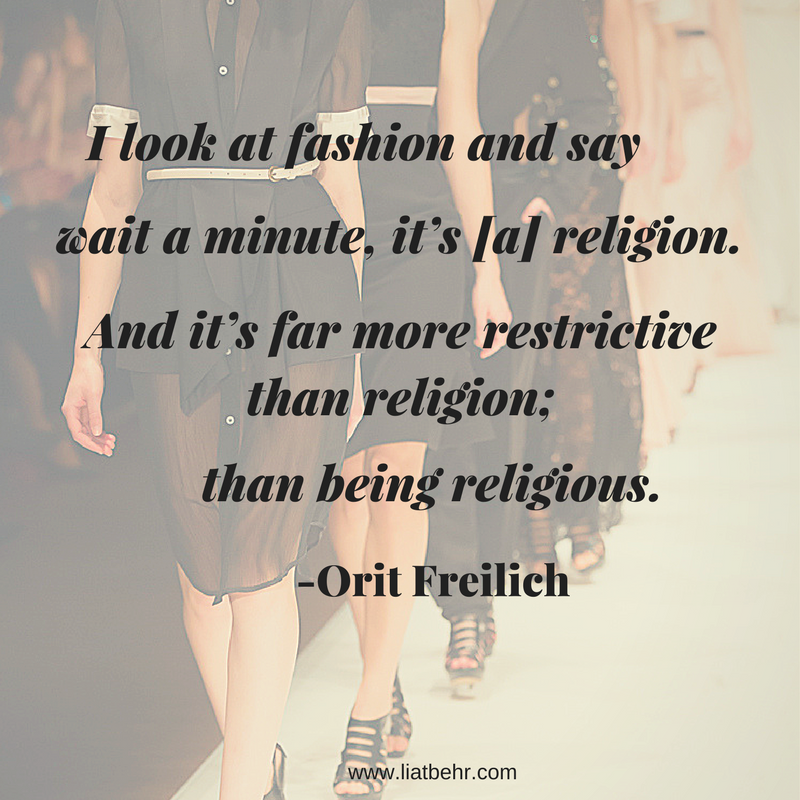 Orit Freilich is an artist, fashion designer, entrepreneur, and senior lecturer at Shenkar college. She's firm, yet flexible, living the dichotomy of two religions – fashion and Orthodox Judaism. I recently met up with her to discuss her journey and her success, and I picked up some important tips she has for women.  
Peering into the world of Orthodox Jews, many would say they've chosen a restrictive lifestyle. And maybe they have. But according to Orit, the world of fashion is far more restricting than even the modesty guidelines of the Orthodox world.
LIVING THE 'CRAZY DICHOTOMY'
As a young girl and later as a mother to girls, Orit felt the modesty restrictions of the Jewish Orthodox world. In the '80s and '90s, working as a designer for the then-popular Israeli Bakardi jeans company, she felt the restrictions of the fashion world. "I realized that I'm living in a crazy dichotomy. There's me and myself and so many questions that I have for myself, as if I haven't yet defined myself….That's when my breakthrough as an artist began. So I wrote a manifesto for myself, with myself. I called it, The Religion of Fashion. I came out against fashion. I said…you see me as a religious person [and as] a designer as if I'm unusual, as if I can't be a religious person and a designer; as if fashion is so open and unrestricted. And I say it is the most limiting, most closed, and most rigid."
Asking her to go into more detail, Orit explained:
"I decided to defend religion. I decided to write The Religion of Fashion to show that fashion is the most shocking thing that exists. It's so restricting. There are people that decide for us on colours; there are people that decide what shapes we'll wear; there are people that actually dictate that every year we need to burn money to change our wardrobe. Last year the 'in' colour was yellow. Now, it's not. So you're entire salary went on yellow. Put [your clothes] in the garbage and now you have to buy red, because red is the colour. If you won't by red, you won't be accepted, people won't think you're 'in…' they won't think that you're dressed well. And people follow this."
Orit let's out a soft giggle.
'I'LL FIND A WAY, IT WILL BE MY WAY'
The fascinating part, is that despite coming out against fashion, Orit didn't leave that world. Instead, it propelled her forward, pushing her to think about and create art that defined the way she felt about fashion. Speaking to Orit, one very quickly understands that she's open to new ideas, open to accepting and deeply understanding the way she is viewed, and to understanding the world around her and the trends that are taking place. I point this out to her.
"It took me a long time," she says "…it wasn't easy. I had setbacks along the way. Now it's relatively easy."
I try to understand from Orit, what gave her the strength to continue. The courage and perseverance to say, 'I'm continuing with my truth and I'm going to succeed.'
And she surprises me. She tells me that she didn't say 'I'm going to succeed.'
Instead she tells me:
"I just did my work. I saw it as sacred work. That's who I am. What, can I not make fashion? I love fashion. Can I not teach my students? I love my students. Can I stop being religious? I love religion. I'll find a way. It will be my way."
Orit just worked on being Orit. That's it. Sure it sounds easy, but as every authentic person knows, figuring out who you are and being the best you is one of the most difficult things you can achieve during your lifetime.
But Orit found her way. She proved the thesis she presented in 'The Religion of Fashion' manifesto when high schools shut down their fashion design and sewing departments. These department had mannequins they used for teaching, but as they closed, they had no more use for the mannequins and they were sold. Orit would buy them. She has a collection of them. Later she would also make them herself. But until then, she bought them used, sometimes "over-used." And she asked herself "how do I show what represents the inside of the mannequin?" She thought, "the mannequin, is a representation of person – of a woman, of a man. And you say that when you dress a person you cause him to be wronged, you cause him misery because he can never be satisfied. Let's see what's inside."    
Orit schlepped her supportive husband and a mannequin to an x-ray lab. She x-rayed the mannequin. Inside she saw pins; the pins used to pin clothes upon a mannequin, to help designers, seamstresses and tailors. She found the pain she was talking about. "The pins represent the pain of the person wearing the garment."
SUCCESS OR THE BRINK OF SUCCESS?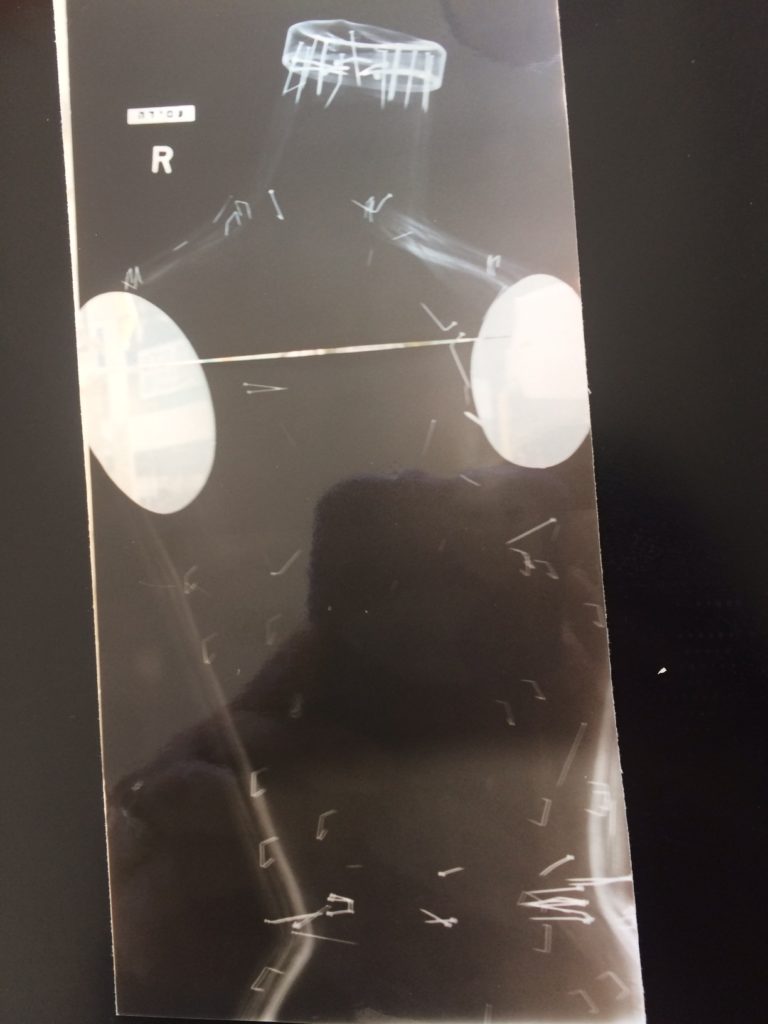 By then, Orit knew she was onto something. Except she had another problem. She had treaded into the territory of art. In fact she was in the multidisciplinary territory of both art and fashion, and she wasn't sure if what she had created was any good.
So she contacted Adam Baruch because she wanted to get his opinion. At that point, Orit had not showed her work to anyone. Not having studied art, she felt insecure and in need of approval from an insider, somebody who understood art. Somebody who would be able to tell if what she created was worth anything.
Adam Baruch met with Orit and he was kind. And they discussed if Orit should study art. "What do you need it for?" Mr. Baruch asked. Why do you want to be an artist, you're already a fashion designer? What do you need it for? I felt like a convert that wants to become Jewish but they don't let her," Orit said. Mr. Baruch told hert that her work was excellent, but he still couldn't understand why she needed the title. So he left the decision of going to study art up to her.
Orit kept her art hidden but continued reading articles about art, self-teaching herself and also studying together with her own students in an art history course given at Shenkar. And then one day she read an article in Yediot Aharonot. An art critic tore apart one of her teachers. Orit decided, she wanted his opinion. He was a fearless critic. She wanted him to see her work.
The critic's name was Gilad Meltzer and he agreed to meet with Orit. But he told her "I don't plan on connecting you with anyone." He couldn't even understand why Orit wanted him to see her work. So they met in Tel Aviv. And he looks at her work and tells her, "I have someone who has to see this."
Orit went on to complete a graduate degree in art. Sotheby's held an exhibition of her art in both Israel and New York. Three of her pieces were sold – one to the Tel Aviv Museum, and two to a famous art collector. Only one remained unsold.
But it wasn't enough. Because though Orit felt like she was in heaven, she was depressed.
"I had the nicest things in the world that I could ever create, but I don't own them. I have nothing."
"But at this point, you knew you succeeded?" I asked her.
"Of course," she replies.
Orit went on to say, that as a result of her experiences she's learned that though an artist must sell art if he expects others to hear about it. Each artist can decide the pace at which he chooses to create as well as be in charge of the process.
I'm so grateful to Orit for her valuable time. I learned so much from her in the time we spent together for this interview. If you're interested in learning more about Orit and her work, be sure to check out her website.
TAKEAWAYS
During our almost two-hour conversation, Orit and I covered a lot of ground. Here is some more valuable information that came out of our talk.
1. Have mentors
Orit's mentors were Adam Baruch and Gilad Meltzer. These men helped move Orit in the right direction. Later on, Adam Baruch wrote an article Orit was truly proud of;
Gilad Meltzer, taught Orit at the Art Seminary and he was the first male feminist Orit had met in her life.
2. Invest in your relationship
During your career you invest a lot of time, money, and energy. Orit's most important investment was in her relationship with her husband.
3. Invest in yourself
For Orit's 50th birthday, she gave herself a gift; a workshop called Humanication which she says "it moved my life like a rocket to the moon."
4. What every woman needs to know
"It's not going to be easy. You have to take for yourself. Nobody's going to give you anything. Nobody's waiting for you. Anywhere."
5. The best advice Orit was ever given
"Where there's a dilemma, a decision has already been made." – Alex Patrashak
You're never really stuck in a dilemma. There's always one choice that you're leaning towards. You've made the decision already, so don't hesitate. Act upon your decision.
6. Books every woman needs to read (Orit's recommendations)
The Bible

Passages by Gail Sheehy

The Second Sex by Simone de Beauvoir

The Waves by Virgina Woolf

Orientalism by Edward Said